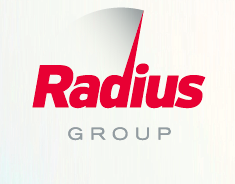 15 December 2013
In 2013 Radius Group received 8 prestigious awards
Moscow, 15 December 2013 – Radius Group, a specialist in the development of 'warehousing and light industrial' real estate, received 8 Russian and International awards in the first three quarters of 2013.
"We consider that receiving 8 awards in less than 9 months is a great achievement for a warehouse developer. This fully meets our expectations of the South Gate project. Each of the awards confirms that the chosen strategy based on our long-term experience in warehouse and light industrial development in Russia is successful", – said Christopher Van Riet, Managing Director of Radius Group.
Awards received in 2013:
1) - The winner of AmCham Awards – 'SME Company of the Year'
Radius Group received this prestigious award for realization of South Gate Industrial Park – the only warehouse complex in Russia certified under BREEAM international standards for energy efficiency and sustainability.
2) a) The winner of Commercial Real Estate Moscow Awards Gold Bar 2013 – 'Leasing Deal of the Year' in the category: Industrial property
The prize was awarded for a South Gate located 'Built-to-Suit' 'development and leasing' project for a medical production & warehousing facility with an area of 20,000sqm on a 15yrs agreement to Germany based client; Paul Hartmann AG. This deal became the only A class industrial development and leasing deal in the Moscow Region in 2012.
b) The winner of Commercial Real Estate Moscow Awards Gold Bar 2013 for 2013: 'Best Warehouse Property'
The phase II project of South Gate Industrial Park of Radius Group won in the Warehouse Complex category.
3) a) The winner of Euromoney Real Estate Awards for 2013 – Best Industrial / Warehouse Developer in Eastern Europe
b) The winner of Euromoney Real Estate Awards for 2013 – Best Industrial / Warehouse Developer in Russia
Euromoney magazine awarded South Gate Industrial Park high ratings in its ninth annual real estate market research opinion poll of leading developers, investment managers, corporate final consumers and banks from around the world.
4) a) The winner of Green Awards 2013 – Company of the Year
b) The winner of Green Awards 2013 – Category: Warehouse/Industrial Property
Radius Group became a Green Awards laureate of the all-Russia competition for ecological development and energy efficiency, and the first amongst the Russian development companies to receive a Gold Diploma, for Phase III of its project; 'South Gate Industrial Park'. The awards are organised by the Guild of Managing Companies and Developers, with the support of the Ministry of Regional Development and, the Ministry of Natural Resources and Environment of the Russian Federation.
5) The winner of FIABCI Prix d'Excellence, for the best realized development project in the Russian real estate market in 2013, in the Category: "Sustainable Development. Energy Efficiency."
The "green credentials" of the South Gate project were further highlighted when Radius Group won the Russian round of FIABCI (Fédération Internationale des Administrateurs de Biens, Conseils et Agents Immobiliers, known internationally as "The International Real Estate Federation"). The awards recognized the use of new eco-technologies that minimize the impact to the environment, as well as the energy efficiencies associated with South Gate.
In additional to the natural environment, South Gate Industrial Park's efficiency and ecological credentials deliver significant operational benefits to the major companies who have chosen to base their businesses there including; John Deere & Company (USA), Hartmann Group (Germany), General Motors (USA), Iron Mountain (USA), Volvo Trucks (Sweden), Decathlon (France), Oriola (Finland), Tablogix (Russia), FM Logistic (France), Kimberly-Clark (USA), Svyaznoy (Russia), etc.
About Radius Group
Radius Group carries out the development and construction of warehouse and industrial real estate on behalf of major international companies.
The company was founded in 2006 by its Managing Directors Christopher Van Riet and David Simons. Radius Group provides flexible and responsible risk management, as well as financial solutions for the acquisition, construction, leasing and asset management.
In its portfolio Radius Group has a range of A class projects successfully implemented in Moscow, Kiev and Kazan. In 2009 the company started development of the South Gate industrial park with a total area of 650 000 square meters on the territory of 144 ha in the Moscow region.
More detailed information is given at
About South Gate Industrial Park
The industrial park is managed by Radius Group, a development and investment company specializing in development of warehousing and industrial real estate. It is located within 20 minute travel time from Moscow and 30 minutes from Domodedovo international airport. This location is ideal to meet the stringent requirements for production, logistics and distribution for companies, which need to base their businesses near Moscow.
The complex located at the intersection of M4 and A 107 highways ensures easy access to the most economically attractive markets of Russia.
South Gate Industrial Park is an A class complex owned and managed by a western company, which allows major market players to expand and strengthen their businesses in Russia in full compliance with the best international practices based on responsibility for every aspect of business activity.
155 000 m2 of the 650 000 m2 project have already been commissioned and leased out.
More detailed information is given at
http://www.radiusrussia.com/projects/south-gate-industrial-park