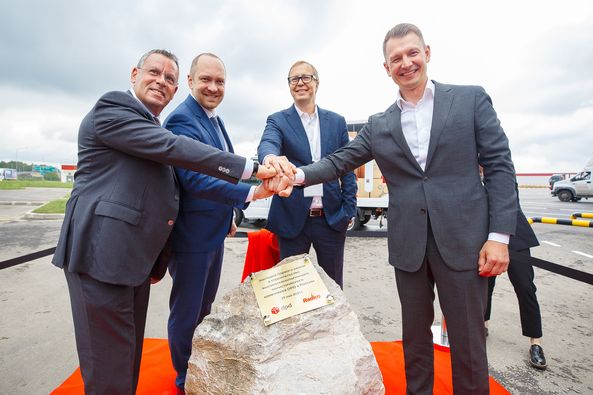 29 December 2021
2022 Summary
Dear friends and partners,
Together with you and at times thanks to you, 2021 was marked by significant events for Radius Group, and now looking back on the year we would like to remember them once again and thank all of those who have been with us!
This year the Radius Group team:
- closed 10 new deals for the total of 200,000 m2,
- laid the foundation stone for the DPD high-tech logistic hub
- participated in more than 20 events and became partners for such milestone events as the Knight Frank Warehouse Conference, Forbes Forum, Kommersant, CRE, and Upgrade conferences to name a few
- launched a 64,000 m2 innovative distribution centre for Cainiao
- commissioned the new building 3АВ Green and started construction of buildings 2АВ and 1АВ
- started design works on the new building 7АВ
With our ESG strategy, once again we were listed in the Top Competitive European Companies in industrial real estate sector. We improved our performance from the previous year and became the third in the Industrial Non-Listed nomination among European companies and the first in the Efficiency nomination. The annual evaluation system reviews true ESG data using analytical tools for comparison of ESG indicators and identifies areas for improvement and interaction with investors. This year we improved our result by receiving 71 points, and two green GRESB (Global Real Estate Sustainability Benchmark) stars remain with us.
- won Green Awards and Proestate&Toby Awards prizes, and South Gate Industrial Park was recognized as Best Industrial Platform according to Russian Business Guide (RBG) Awards supported by the Russian Chamber of Commerce and Industry.