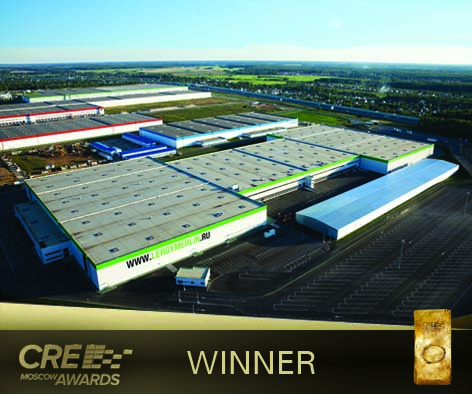 02 May 2017
Leroy Merlin Distribution Center at South Gate Industrial Park receives a golden brick
The built-to-suit Leroy Merlin Distribution Center implemented by Radius Group, the leading warehouse real estate developer became winner of CRE Moscow Awards 2017 for Industrial Real Estate Warehouse Complex. The award ceremony took place on April 27th in the Barvikha Luxury Village Concert Hall.
The Built to Suit of Leroy Merlin's Global Retailers National Distribution Centre which was developed and constructed by Radius Group at South Gate Industrial Park won the Golden brick at the CRE Moscow Awards 2017 for Industrial Real Estate Complex of the Year.
Leroy Merlin Distribution Center became the largest distribution center of the French retail network in Russia – the facility space amounts to 100, 000 sq.m. The facility has a high traffic capacity of cross docking areas, enables loading of 89 trailers. The warehouse complex is equipped with the latest global fire safety system. Due to the use of the latest safety and energy saving technologies in the construction, the distribution center has successfully passed the certification according to the international environmental standard BREEAM.
"We are honored to receive recognition of our work from the highly professional award judging panel. After six months of operating activities in their new DC, our Client, Leroy Merlin, has already noticed all the advantages of a building that 100% meets the needs of their business. We are pleased that now the professional community has voted for the facility in which we were able to implement an unusual logistics concept and construct a building of the highest quality for our partner with the use of innovative technologies in the design and construction, said Anna Sorokina, Radius Group, Leasing and Marketing Director.
We recall that the award of the Commercial Real Estate Moscow Awards was established 14 years ago and is one of the most prestigious awards in commercial real estate. Every year the finalists and winners of the CRE Moscow Awards are industry leaders: the best projects, management companies, developers and consultants who have passed a careful competitive selection.