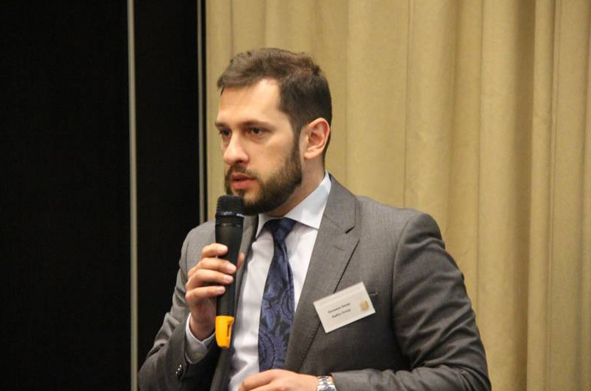 17 April 2017
Logistics hubs tenants optimize their expenses
Zakhar Valkov, Radius Group, COO said at the Warehousing and Logistics Conference that the synergetic effect achievable from locating warehouse in a logistics hub allows companies to reduce logistic processes.
The annual warehousing and logistics conference organized by IM EVENTS with the support of the Impress Media Publishing House was held on 6th April in the Radisson Blu Belorusskaya Hotel. The leading developers and consultants, logistics specialists, experts in the warehouse and industrial real estate attended the conference.
During three working sessions, the conference participants discussed the actual issues of warehouse and industrial real estate management, the prospects of wholesale distribution centers development and online retailers' needs for warehouse space.
Radius Group COO, Zakhar Valkov presentation was devoted to the synergetic effect of logistics hub based at South Gate Industrial Park. In his presentation, he presented the concept of Leroy Merlin National Distribution Center and spoke about the unique advantages of location in South Gate Industrial Park that are given to retailer's suppliers to reduce logistics expenses and improve the level of service.
"If speculative warehouses were of the greatest demand in the market some years ago, then today, large companies, try to reduce the supply chains by locating warehouses in specialized buildings. In cooperation with Leroy Merlin, Radius Group has developed and constructed the Russian Largest National Distributional Center at South Gate Industrial Park. Upon completion of the project, we proposed to Leroy Merlin an innovative solution – the implementation of a DIY hub concept. Special quotations were developed for retailer's suppliers that allowed them to become Park's residents, namely, to be located in the close proximity to Leroy Merlin Distribution Center.
"Such a solution allows the retailer and retailer's suppliers to dramatically reduce both temporary and financial logistics expenses," comments Zakhar Valkov, Radius Group.
Warehousing and Logistics is the key event for warehouse and industrial real estate players. Annually the conference gathers industry-leading experts to determine the basic segment trends.