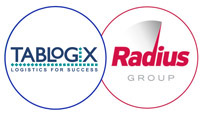 14 June 2017
Tablogix together with Radius Group have launched a DIY Hub for Leroy Merlin's suppliers
Tablogix, the logistics operator, supported by the development company, Radius Group, the owner of South Gate Industrial Park, have launched a DIY project designed specifically for retailer's suppliers at South Gate Industrial Park where Leroy Merlin's largest distribution center was opened in 2016
Within this project, Tablogix develops solutions and starts up logistic operations for storage and transportation of DIY goods from Tablogix warehouse to Leroy Merlin DC. The operations are configured in such a way as to provide significant benefits to suppliers and improve the quality of service for retailer's stores located in the central part of Russia. It takes 10 mins to transport the orders from Tablogix warehouse to Leroy Merlin DC.
Not only close vicinity but also efficient warehouse logistics with broad use of IT tools and lean manufacturing principles allowing the reduction of costs. Tablogix IT department develops EDI interfaces and an automated reporting system. The services for arranging a customer service center and maintenance center are also available in the warehouse.
Realizing all benefits, Leroy Merlin's key suppliers have already expressed the desire to move their warehouse operations to South Gate Industrial Park. Nowadays the Tablogix platform hosts 5 manufacturers of home and repair goods. 3-4 suppling companies more are expected to move in the near future.
The representative of Kohler, American plumbing fixtures manufacturer, describes the benefits of their warehouse relocation: "Kohler aims at maintaining the highest customer service level for Leroy Merlin. In cooperation with Tablogix, we have launched warehouse operations that would allow us to developer our partnership with Leroy Merlin, providing our partner with guarantee of best price and service".
Sergey Krayushkin, Head of Network Client Department, GRIFMASTER, a manufacturer of ceramic tiles and sanitary ware: "The intermediate proximity to Leroy Merlin DC was vital for us when selecting a warehouse. The partnership with Tablogix will allow us to reduce the costs for the interim delivery distance and operational load associated with the specifics of the requirements for the preparation of orders for our own warehouse. We expect to increase the efficiency of work with the key client, Leroy Merlin, due to faster deliveries and active participation of Tablogix in the resolution of current logistics issues with the client".
David Lane, Tablogix General Director: "The main value of DIY hub is providing Leroy Merlin suppliers with the timely goods delivery at competitive price thanks to efficient warehouse and transport logistics. Tablogix' wide experience in the DIY segment and individual approach to each project allows us to guarantee excellent commercial terms and high quality of operations".
Anna Sorokina, Radius Group Lease and Marketing Director "The synergy of tenants achievable because of their location within one industrial park is rare for Russian market." The concept of DIY hub implemented at South Industrial Park by our Tablogix partners with our support allows Leroy Merlin suppliers to reduce the expenses for the delivery of goods to the client and allows Leroy Merlin to obtain the higher level of service from their counterparties"