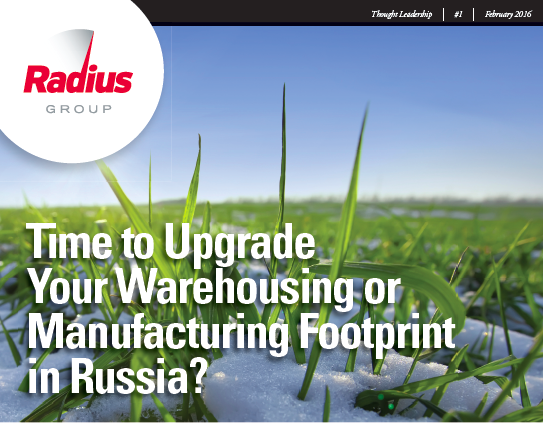 09 February 2016
Time to Upgrade Your Warehousing or Manufacturing Footprint in Russia?

2016_february_radius_white_paper_russia_warehousing_and_logistics.pdf
Radius Group explores business opportunities in industrial real estate arising from the current economic situation in Russia.
Report highlights:
Russian real-estate infrastructure has become dramatically cheaper and more accessible.
For warehouse and logistics real-estate, Moscow vacancy volume is over 800,000m2, the highest in market history which temporary "supply bubble" has resulted in rents falling well below levels necessary to stimulate new construction in this structurally undersupplied market.
Current real-estate market conditions create significant opportunities for companies operating in Russia, with companies choosing different strategies to benefit from the current dislocation:

Maintain functionality while reducing fixed costs.
Upgrade existing real-estate infrastructure at historically low rental values.
Expand functionality and improve operational efficiency at historically low CAPEX investment costs.