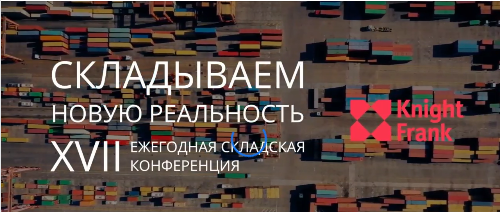 22 September 2021
XVII Knight Frank Annual Warehouse Conference was held with great success
On the 16th of September XVII Knight Frank Annual Warehouse Conference was held with great success. As always, the event has become the largest in the segment – it hosted more than 600 visitors. This time, the organizers have expanded the program and held 5 sessions, they had discussions with the market players and experts on general issues and global trends within the framework of general plenary sessions and on narrower and specialized topics – in parallel sessions. Zakhar Valkov, Chief Operations Officer in Radius Group, took part in three sessions.
Alongside the speeches, as a partner of the event Radius Group surprised the guests with a box with presents. A team member of a company residing at the South Gate Industrial Park delivered it to the conference live within one and a half hour having demonstrated the strategic location of the project and its logistic strengths.
Our thanks to the organizers, guests, and partners, and see you in 2022 at XVIII Annual Warehouse Conference, the one to be already of age!