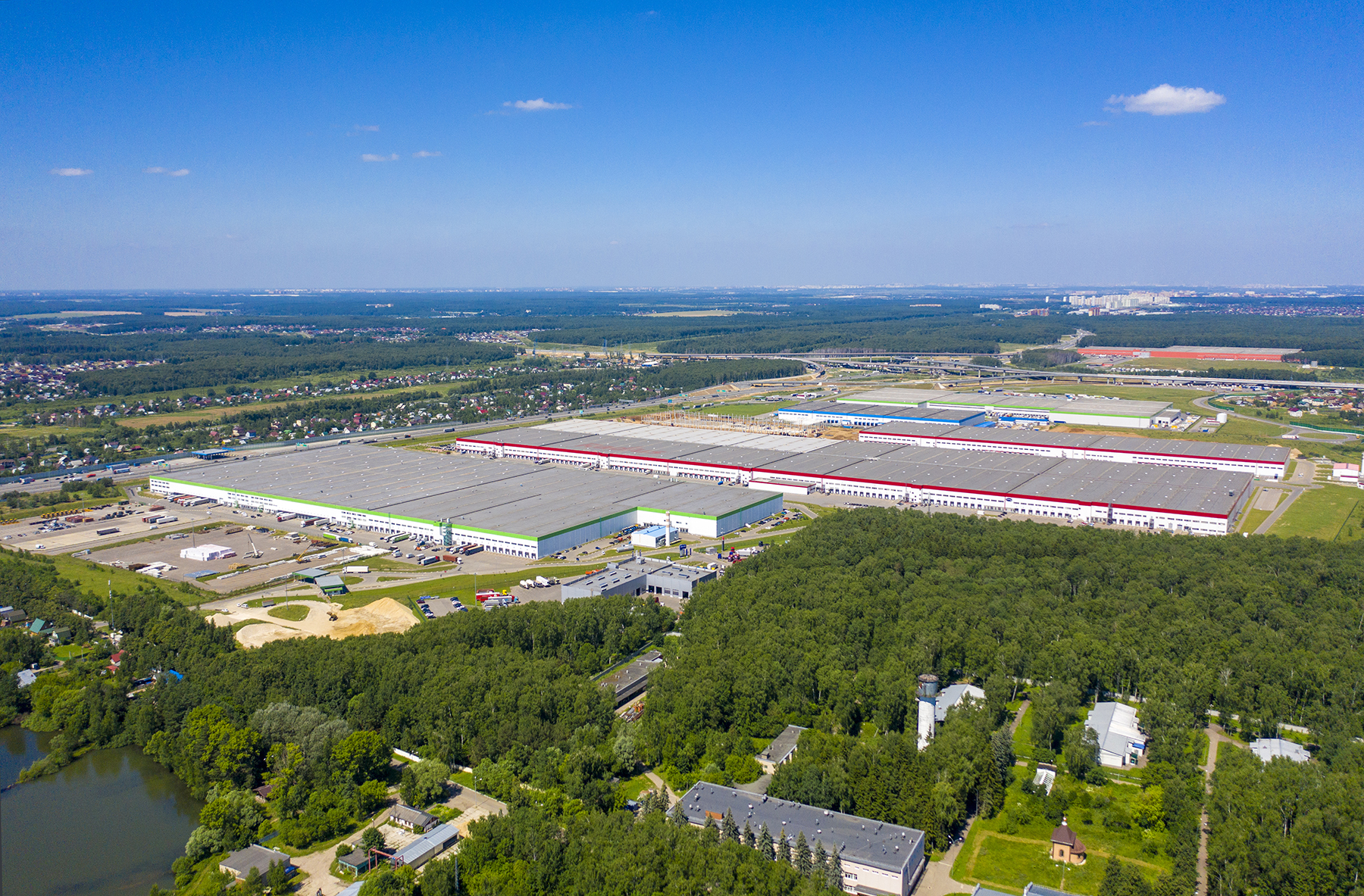 25 February 2022
Radius Group Completes a Cutting-Edge Hub for DPD
Moscow, 24 February 2022 — The commissioning permit was obtained early in February. Radius Group, a leading developer and owner of warehouse and industrial real estate, completed construction of the building at South Gate Industrial Park ahead of the schedule and granted access to the building for DPD, a leading logistic operator in Russia. The fit-out and equipment works are currently underway – the opening ceremony and launch of operations of the DPD modern logistic terminal in Domodedovo is scheduled for autumn 2022. Cushman & Wakefield, an international consulting company, provided transaction services to DPD and the developer on the deal, conducted construction monitoring and commissioning of the logistic terminal. The project delivery is supported by the Ministry of Investment, Industry and Science of the Moscow Region.
The high-tech logistic complex is built within less than 9 months as a BTS project and complies with BREEAM international energy performance and environmental standards (the certification completion is scheduled for Q2 this year). Green quality materials alone were used in construction, which ensures the most comfortable working and rest environment for the company staff. The logistic complex has about 24 thousand square meters of area – it will be enough for operational activities of the company for another 12 years. The basic features of the project are: dock gates on 3 sides of the building, raised requirements for quality of the floor and its live loads, and increased utility loads. As the project is intended to be highly automated and digitalized, it is provided with enhanced power supply and voltage regulation systems. Besides, higher illumination levels are envisaged for the project.
Ekaterina Zinovieva, Minister of Investment, Industry and Science of the Moscow Region,
"Today there are 59 industrial parks operating in the Moscow Region – it is the largest industry infrastructure in Russia. All of these sites are growing rapidly offering various entry forms to investors: independently implement a greenfield project, go with build-to-suit construction or opt for light industrial spaces. Build-to-suit, in particular, allows businesses to facilitate production startup as much as possible by leaving out the tough job of project construction. Diverse options offered at industrial sites in the Moscow Region were instrumental in attraction of 125 residents, who intend to invest approximately 55 billion roubles in their projects, to industrial parks of the outer Moscow in 2021."
Anna Matveeva, Operations Director, DPD in Russia,
"The new terminal will become the DPD's central hub in Russia for parcel sorting. We are pleased to have chosen a reliable developer who offers not only a convenient location for us and our customers but also guarantees environmentally friendly development. Besides, energy efficient construction technologies will save resources, and state of the art equipment will further improve the quality of service. Thanks to the unique sorting system we will be able to promptly process way more parcels. The end of the last year showed that shipping volumes continue to grow – the traffic increased by 13%. These are record figures for DPD in 30 years it has been in the Russian market, and they make us gain pace and use high tech solutions to ensure prompt and continuous handling of the growing number of parcels."
Zakhar Valkov, Chief Operations Officer, Radius Group,
"It will become the central hub in DPD's warehouse and logistic infrastructure thanks to customized features, high level of automation, and ESG compliance. We are glad that DPD team chose Radius Group as their partner and developer and entrusted us with implementation of the strategic project, and it is, indeed, worth noting that we managed to deliver on all of our commitments in time. The market experts and actors call the previous year, 2021, a golden one for warehouse real estate – we saw growth of rental rates, upturn in demand and drop in vacancy to the lowest level ever. However, this period became a real challenge for professional developers as construction costs grew literally every month, we saw contractors go back on awarded contracts or suspend construction works as they needed more time to update their offers. Operation in current market reality required clear understanding of its conditions, formation of fair value and striking the right balance for the rental rates. Evidently, today the market winners are none but development projects which had all the processes managed as efficiently as possible in the course of their implementation."
Pavel Yakimchuk, Partner, Head of Project Management Department, Cushman & Wakefield,
"We are happy to have had the opportunity to support our strategic partner in this project. Our involvement made it possible to ensure due control of the project deadlines and quality and provide an opportunity for DPD management to receive latest realtime independent information on key parameters of the project."
The next phase of the project is to prepare the premises and install equipment, which includes a unique FIVES Intralogistics dual-loop sorting line to handle 25 thousand parcels per hour. As a result, pallet-free loading operations will become reality: the new line will automatically route parcels through 'sleeves' for loading, which will save parcel handling time. The increase in carriage size and maximum handling weight will allow for larger and heavier parcels to be sorted without the use of manual labour.
Following equipment installation and repair works, the terminal will be equipped with biometric access control system and advanced video surveillance system. Around 1,000 people will work here after the project is commissioned and fully operational. The staff will use eco-friendly modes of transport – scooters and bicycles – to move around the terminal. All production wastes will be recycled for reuse.